Medical waste disposal services for physician offices require careful attention to detail and punctual removal. In addition, such offices sometimes see hourly traffic of patients and people who come there to be examined or treated. A sizeable amount of medical waste can therefore be generated in physician clinics.
Your clinic or office therefore needs to hire competent and capable medical waste removal experts to stay compliant and keep your staff and patients safe from injury or the accidental spread of infections.
Compliant Physician Offices Medical Waste Disposal
At MedPro Disposal, we are well-versed in all aspects of how medical waste is generated within physician offices. We also understand the need to dispose of your medical waste on time, thus keeping your clinic hygienic, compliant, and safe.
It is essential to keep the following in mind:
Know the important characteristics of the wastes generated in your clinic. This includes traits that make physician office medical waste particularly hazardous (flash points, pH, reactive components, concentrated chemicals, etc.).
Be aware of how much hazardous waste your clinic or office produces every day. This measure can be calculated in weight or volume.
Realize the precise source of your office medical waste. This can help physicians streamline their operations and stay compliant with state laws.
Even though most waste created in such medical settings is non-hazardous and unregulated, the spread of infections can happen. You can keep your clinic or office compliant by relying on MedPro.
Medical Waste Disposal Solutions for Doctor Offices
A medical practice generates similar quantities and types of waste as a typical office. This can include anything from waste paper and small plastics to packaging materials and food/beverage containers. Over 80% of doctors' offices generate municipal solid waste (MSW) of this kind.
However, the key reason companies like MedPro Disposal offer their services to physicians is due to the biological waste generated in such offices. Medical waste from doctor offices and clinics has its own classifications. Therefore, special segregation techniques and disposal methods must be followed if such offices want to remain compliant and ensure the continued well-being of their staff and patients.
Here are 3 main categories of medical waste generated in physician offices:
Biohazard Medical Waste
Biohazardous substances include pathological, infectious, and animal waste that can spread infections through pathogens if left out in the open.
The Resource Conservation and Recovery Act (RCRA) insists on carefully and thoroughly handling and disposing of all such wastes. If a physician's office generates biohazardous wastes daily, it will need a special permit from the EPA to stay compliant.
You need to make the extra effort to separate biohazardous waste from other medical waste. Properly containing such waste helps medical waste disposal companies like ours keep your business complaint.
Sharps Waste
Any medical objects, tools, or equipment that can pierce skin can also cause injuries. Physician offices have syringes, lancets, needles, razor blades, and more that need mindful storage and disposal standards.
Discarding them in separate containers is one of the first steps to ensuring the safety of office staff and patients who visit. In addition, some doctor offices also have wards to keep patients overnight, thus adding to the reasons for strict and careful medical waste management of discarded vaccines and used sharps.
To stay compliant and avoid dangers related to sharps, rely on smart color code systems and warning signs at the workplace. This will help you properly store or discard sharps medical waste so that it can be picked for disposal without any confusion.
Pharmaceutical Waste
The medical world is gradually attempting to phase out its dependence on mercury as this hazardous pharmaceutical chemical can prove risky once it exits broken diagnostic instruments like thermometers or blood pressure gauges.
Other controlled substances (aka pharmaceutical wastes) that demand special handling and disposal include expired medications and narcotics. This category also includes creams, ointments, P-listed hazardous waste, and non-RCRA drugs.
Physician offices need to take care not to crush and flush such medical waste but to follow FDA-approved disposal procedures. MedPro Disposal can provide critical insights and services to help you achieve compliance.
Waste Management for Physician Practices
MedPro Disposal knows how to properly remove all classifications of waste generated in physician and doctor offices and clinics. Our team helps you create efficient waste management plans, which include handling, storing, and letting us dispose of all waste produced in your medical establishment.

We also perform recycling for select wastes, thus staying true to our company's eco-conscious goals. MedPro Disposal helps you punctually remove all accumulated office waste, gain peace of mind, stay compliant, all for a reasonable cost.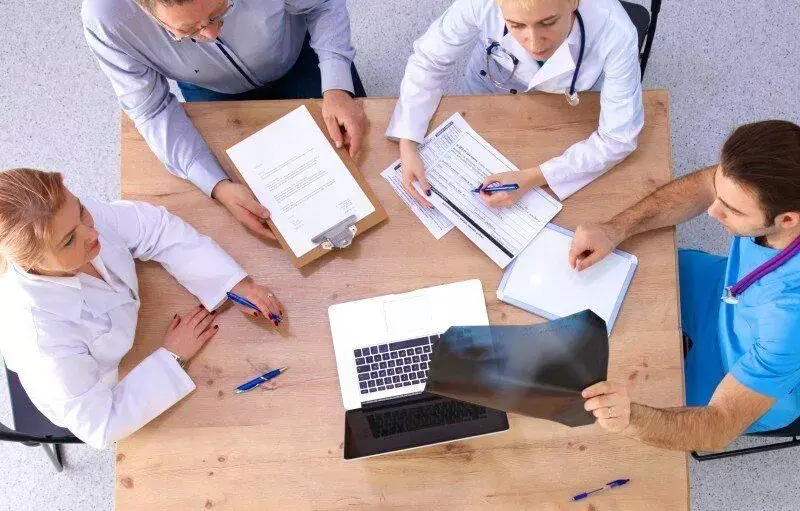 Physician Practices Waste Disposal Cost
We will tailor the price accordingly based on the extent and amount of waste generated in your office or clinic. MedPro Disposal prides itself on providing competent medical waste removal services for physician offices and doctor clinics at affordable disposal costs.
OSHA & HIPPA Training Programs for Physician Offices
Employees and staff at doctor and physician offices need adequate training in medical waste management. This includes proper and safe ways to handle and store such wastes before companies like ours can pick them up for efficient disposal.
MedPro Disposal provides licensed OSHA & HIPPA training courses for staff who work at physician offices.
Our programs offer a good understanding of legal regulations, collection system color coding, waste classifications, safe handling of hazardous and regulated waste, and emergency procedures.
We will also guide your staff in how clothes and various clinical equipment can get contaminated through biological fluids or office chemicals.
Our team trains staff members to securely wear gloves and masks and keep themselves safe, thus preventing physician clinics from experiencing litigation issues due to poor or vulnerable office workplace safety.
With our medical waste disposal programs for physician offices, you can keep your clinic compliant, hygienic, and eco-conscious and your staff aware of important ways to avoid infections and accidents at the workplace.
Ready To Get Competent & Cost-Effective Waste Disposal Services For Physician Offices?
Connect with us over a call or through email and we'll get back to you within 1 business day.