MedPro Survey and Refer a Friend!
We recently sent out a survey to our current customers to see learn a little more about them and see how we're doing as well. Boy did we learn a lot! A huge thank you goes out to the 213 people who took the time to complete our survey. The feedback helps us better ourselves moving forward. 
Finding New Products & Services
We asked our customers how they find new products and services and how they decide which providers to speak with. The most common answer, of course, was the internet. However, we did get a fair amount of responses saying people read medical journals. This left us wondering…what medical journals are our customers reading? 
What Do We Call This Waste Anyway?
Another topic we wondered a lot about is what term our customers use to refer to their waste that we dispose of. We've heard terms such as medical waste, biohazard waste, regulated medical waste, and potentially infectious waste, among others. We know that various state regulations use different terms to define the waste but we wanted to know what terms would be recognizable to our customers. What we learned was that most people use the term "biohazard waste" followed by "medical waste" and then a few others. In the graph below you can see how it broke down.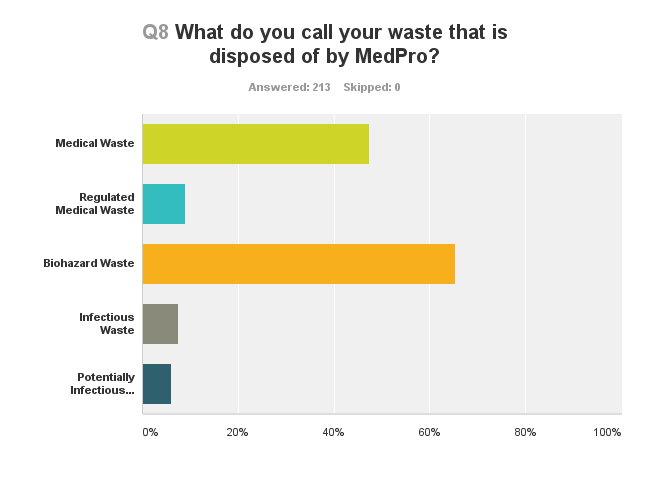 Compliance Responsibilities Going Digital
One of the most shocking sets of results of our survey was about compliance responsibilities. With so much of the world going "green" and opting for digital documents, files, etc. we figured most practices would have gotten some sort of online compliance solution as well. However, it seems as if this is not quite the case yet. In fact, nearly 65% of responses to the question "how do you currently manage compliance responsibilities?" answered that they're still using "books, binders and other printed materials." Fortunately, MedPro has a solution! We offer a convenient and comprehensive online compliance portal! 
Questions about Waste
One of the most important questions we wanted to ask was what questions our customers had about waste. There are a lot of little nuances in the healthcare industry as well as a lot of other industries that end up creating biohazard waste such as funeral homes, law enforcement offices, and more. 
Our number one most asked question was "what actually happens with the waste?" We thought this was so important to answer that we wrote an entire blog about it. Find out what happens to medical waste here. 
Some of the other questions we got were:
Why do I get an invoice before my service? Well, we bill on the 1st of each month. Your pickup may not be scheduled until the second or third week of the month. In this case, you will get your invoice before your actual date of service. 
What am I supposed to do with expired medications? We get this question a lot. Fortunately, MedPro does offer a mail-back solution for non-controlled pharmaceuticals. For more information please call us at 847-960-9339 and we'd be happy to help!
How can I prove to our compliance officer that we're in compliance? We love this question! It's great that our customers care not only about getting compliance training but making sure their team is fully trained and certified. Our MedPro online compliance portal offers the option for each person completing training to print off a certificate proving their completion of the training. Make it a requirement for your employees to print or email you these certificates so you can keep them together in one handy place! 
Why MedPro?
Another question we of course wanted to ask was why our customers choose to use MedPro. We can think of lots of reasons but we wanted to know what our customers had to say! The most popular answers were great customer service, competitive pricing, recommendations from friends and quick responses from our sales reps! 
"John initially contacted us letting us know that there was not just one company that provided medical waste removal in our area and we did not know that and price was a huge savings for us." -Kim D., Illinois
How Could We Improve?
One of the most fun questions for us to go through answers for was this one. We asked our customers how MedPro could improve to better serve them. Much to our delight, the most popular answer was "nothing! MedPro is doing great." 
However, this is not just a chance for us to brag! While majority of the answers were reassuring, there is always room to improve. We had a couple of answer regarding billing and invoicing issues. We have recently changed our billing procedure to remedy these issues!
Another answer we got was that we should "be a nationwide disposal service and give the other national companies some competition." Well as it turns out, we're already working on that! MedPro currently services 44 of the 50 states and is the largest privately owned medical waste disposal company! Check out this map of our service locations. 
Finally, one respondant answered "Mail out a contact form or wall hanger so we can easily call when service is needed." This is so exciting because we recently had a MedPro waste poster designed with some helpful tips on managing your medical waste. It also has all of our contact info right on the poster. This poster can be hung right above the medical waste container! These will now be sent out to new customers. However, if you'd like to download your own poster and print a copy (or two!) for your office you are welcome to do so! 
Would You Refer Us to a Friend?
We are thrilled to report that 93% of respondants indicated they would be likely to refer MedPro to a friend! Not only is this great news for us, it's great news for you too. We have decided to offer $50 gift cards to any successful referrals. You can refer as many people as you want and spend the gift card on whatever you want! This means if you refer 3 friends who sign up with MedPro then you've got yourself set up for a $150 shopping spree! Or, you know…a whole treasure chest of new post-it notes for the office!